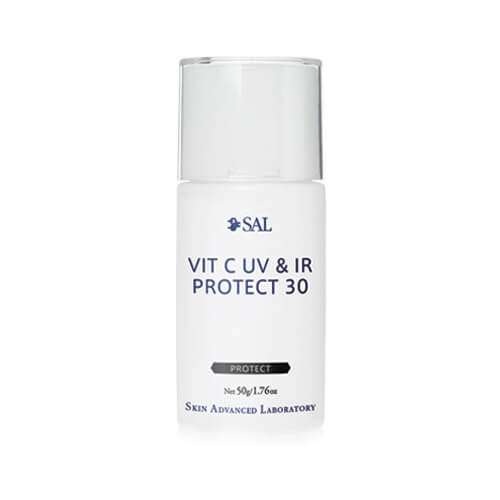 VIT C UV & IR PROTECT 30
Advanced sunscreen that protects your skin from ultraviolet (UV) and infrared (IR) rays. Shields skin from harmful UV rays and controls the skin's rising temperature by blocking out infrared rays, relieving irritation caused by heat. Vitamins and moisturizing substances also protect the skin from damaging effects of the sun, providing defense to those prone to sunburn and dryness. Cream-type that helps prevent dryness of the skin.

Key Ingredients and Benefits
Titanium oxide, zinc oxide: Sheltering from UV rays
Infrared ray dispersing titanium oxide: Protection from infrared rays, relief from elevated heat on skin surface
Ascorbyl tetraisopalmitate : Oil- soluble vitamin C derivative, scavenges free radicals generated from UV for protection into the level of skin cells
Tocopherol: Antioxidant against UV irradiation
Ectoin, polyquaternium-61, ceramide: Moisture protection substances
Bio anti-aging ingredients (Aloe, Pueraria robata root extract, Chlorella)
For all skin types.
Apply in the mornings and when outdoors during the day. Lightly shake the bottle, and apply an appropriate amount over the face, neck and chest. For optimum results use after a SAL antioxidant and moisturiser.