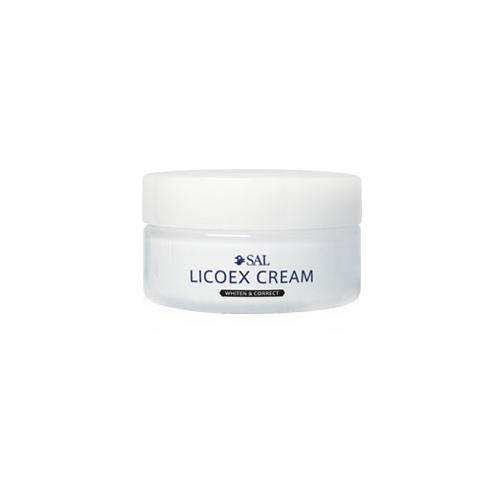 LICOEX CREAM
Derived from Licorice, polyol soluble licorice extract P-T (40) can hinder unwanted pigmentation caused by exposure to ultraviolet rays. The formula greatly reduces and prevents outbreaks of blemishes, freckles, and uneven skin tone, stalls the skin's natural aging process, and provides anti-microbial protection. The inclusion of another licorice extraction stearyl glycyrrhetinate helps reduce irritation, inflammation, and erythema – commonly caused by long exposure to the sun. This also prevents discoloration of the skin. In addition, humectant with an amino acid blend and hyaluronic acid inject the skin with vitamins C and E, protecting against damage caused by free radicals. 

Key Ingredients and Benefits
Polyol soluble licorice extract P-T (40):  Whiten the skin by prevents the occurrence of melanin- biosynthesis also effect for anti-aging and antimicrobial
Stearyl Glycyrrhetinate:  inhibiting of inflammation, irritation, and skin allergies resulting from exposure to the sun (UVB induced-erythema)
Amino Acid Blend and Hyaluronic acid: Humectant and retain water for smoothing and softing the skin 
Vitamins C&E derivative: Antioxidant ability
For normal and dry skin
Smooth the cream evenly onto face, neck and chest, let it absorb thoroughly into the skin. For optimum results use with a SAL antioxidant.