BOOK YOUR NONE SURGICAL FACELIFT CONSULTATION IN MALAYSIA!
Non-Surgical Facelift in Malaysia - Visit Our Clinic in Petaling Jaya
Laser face lift doesn't require incisions. With a laser face lift, we resurface and tighten the outer layers of your skin so it has fewer fine lines and wrinkles. Laser resurfacing offers a number of advantages over other facelift methods such as chemical peel. It is more precise and there's no bleeding (or very little) and the post-surgery discomfort is also minimal.
What is PROFHILO
The first revolutionary bio-remodelling "injectable skincare" that addresses skin laxity and signs of aging through the bio-stimulation of collagen, elastin and adipocytes (fats) stem cells that was lost through skin aging.
New anti-aging approach with innovative technology that targets from the inside out
Uses 100% pure hyaluronic acid
High hyaluronic concentration using 32mg of hyaluronic acid (high molecular weight) and 32mg of hyaluronic acid (low molecular weight)
Intervenes the process of aging tissue, bio- stimulates elastin and collagen
Addresses signs of skin aging naturally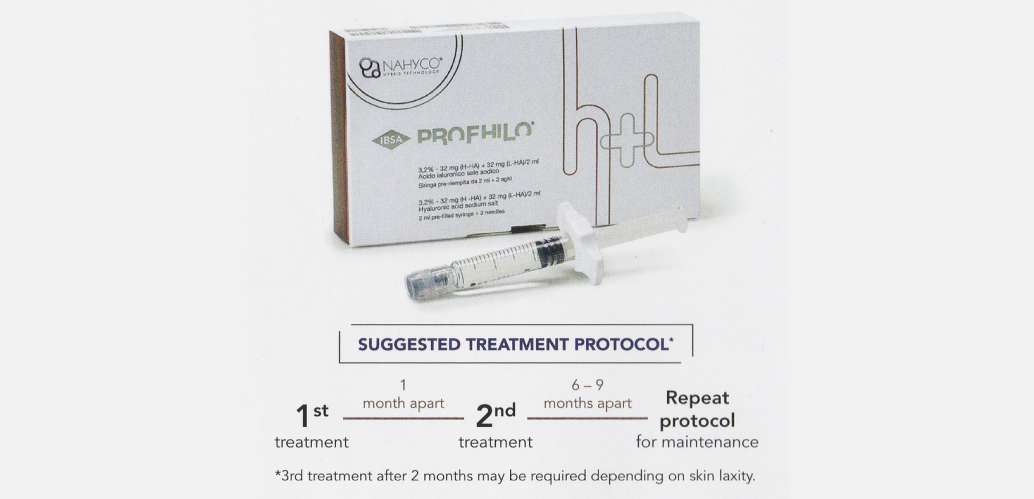 Why PROFHILO
Formulated with unique patented NAHYCO Hybrid Technology
Clinically proven for safety, efficacy and bio- compatibility
Sustainable results without use of chemical cross-linking agents, reducing chances of inflammation
Reaches multiple skin layers, targeting skin laxity and loss of collagen
Unique BAP (Bio Aesthetic Points) injection technique for optimal diffusion of the product
With just 5 BAP injection points per side of the face, Profhilo diffuses through the different skin layers, across the widest sections of the face through, bringing a natural and lasting refreshed look.
The 10 BAP injection points for neck is carefully developed to avoid injury to vital structures, providing anti-aging benefits from the inside out.
Benefits PROFHILO
Bio-stimulates elastin, 4 types of collagen and hydration in the 3 main layers of the skin
Provides firming, tightening and lifting effect to the skin
Improves overall skin quality and hydration
Fast and effective treatment with minimal pain and downtime
Provides tissue repair process, ideal for acne scarring
PROFHILO是什么??
PROFHILO逆时针是首个独特的生物重塑"注射护肤"疗程,对皮肤衰老过程中所失去的胶原蛋白,弹性蛋白,脂肪细胞与干细胞进行生物刺激以改善皮肤松弛和衰老的迹象。
全新抗衰老的方法和创新技术,由内而外针改善
100%纯净高浓度透明质酸
使用两种透明质酸成分(32毫克高分子量及32毫克低分子量) 的双重作用是重塑皮肤松弛的理想选择
干预组织老化过程,生物刺激弹性蛋白和胶原蛋白
自然改善皮肤老化的迹象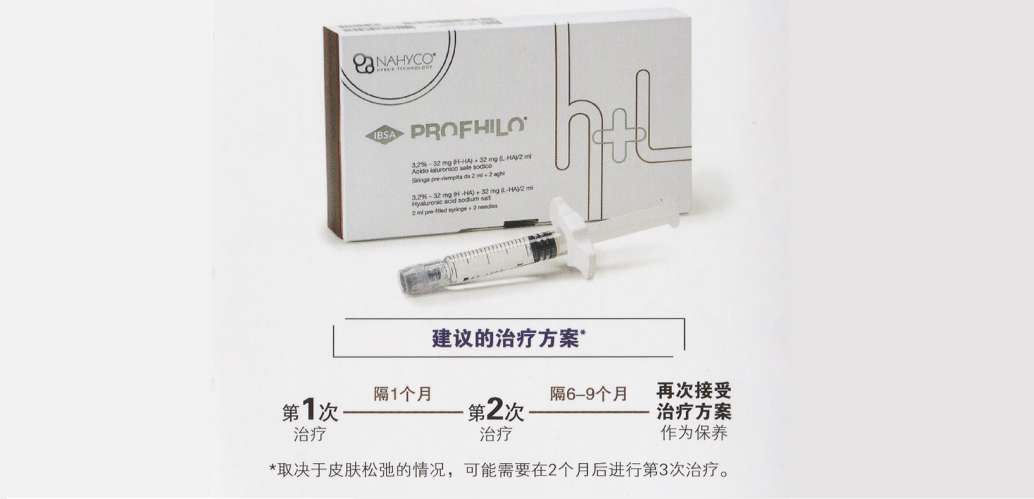 为什么选择PROFHILO
采用独特专利NAHYCO混合技术
安全性,有效性和生物相容性均经过临床验证
可持续结果,不使用化学交联剂,减少发炎的问题
达到多个皮肤层,深入针对皮肤松弛和胶原蛋白流失
独特的BAP(生物美学点)注射技术可实现产品的最佳效果, 以提高治疗舒适度
精心设计的10个BAP预部注射点避免伤害重要结构,从内而外提供抗衰老功效
脸部每侧只需要5个BAP注射点,Profhilo逆龄针凡功效便会扩散到整个脸部,穿过不同的皮肤层,带来自然持久的年轻外观
PROFHILO的好处
在皮肤主要3层结构提供生物刺激弹性蛋白,4种类型胶原蛋白及水合作用
为肌肤提供紧致和提拉效果
改善整体皮肤质量和水润效果,给予皮肤清新,年轻的外观
快速有效的治疗方案,把痛楚和恢复时间降至最低
有效修复组织,非常适合座疮疤痕形成的问题