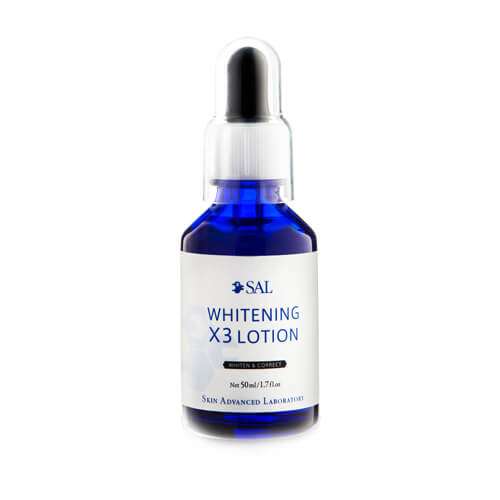 WHITENING X3 LOTION
SAL Whitening X3 Lotion contains a pioneering new whitening agent – hydrolyzed prunus domestica – targeted specifically at keratinocytes to inhibit melanin production. The agent works in synergy with kojic acid and alpha-arbutin, each directly affecting melanocytes and hindering melanin synthesis. The formula's phyto extracts, moreover, smooth uneven skin tone, while dipotassium glycyrrhizate prevents inflammation that can lead to pigmentation and hyaluronic acid provides natural moisturizing effect.

Key Ingredients and Benefits
Hydrolyzed prunus domestica target on keratinocytes by inhibits effect of incorporation of melanin into it.
Kojic acid and alpha-arbutin, the whitening synergistic target on melanocytes to inhibit the synthesis of melanin.
Phyto extracts (pueraria lobata root, aloe barbadensis and chlorella vulgaris) smooth the uneven skin tone.
Dipotassium glycyrrhizate Japanese Quasi-drugs ingredient from nature, prevents skin from inflammatory which leading to pigmentation.
Hyaluronic acid ability to bind and retain water gives suppleness, firmness proper elasticity.
For all skin types.
Smooth the lotion evenly over the face, neck and chest. For optimum results use with a SAL antioxidant and moisturiser and follow with sunscreen for morning.
Recommend for After Laser Treatment