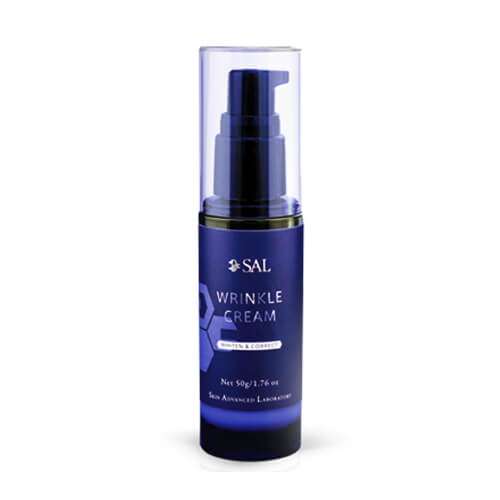 WRINKLE CREAM
SAL Wrinkle Cream contains four key ingredients, including an advanced new source of bio-energy: MG6P (Methyl-Glucoside-6-Phosphate). The natural glucose derivative diffuses throughout skin to re-energise senescent fibroblasts and trigger essential elements, thereby leading to increased production of collagens and elastin. Another key ingredient, hydrolysed elastin, boosts levels of hyaluronic acid for increased skin suppleness and firmness. The formula's extract of tropical plant Acmella oleracea smoothes expression lines, while Epidermal Growth Factor (EGF) stimulates generation of new skin cells to prevent wrinkles and correct uneven tone. SAL Wrinkle Cream's high clinical efficacy has confirmed visible reduction of deep wrinkles.

Key Ingredients and Benefits
MG6P : Bio-energy reduce deep wrinkles by increasing collagens and elastin.
Acmella Oleracea Extract : to smooth expression lines.
EGF : growth factor prevents wrinkles and correct uneven tone.
Hydrolysed Elastin : to boost hyaluronic acid for skin suppleness and firmness.
This product is suitable for mature, normal and dry skin.
After you usual regimen (preparing skin with antioxidant, whiten & correct), smooth cream evenly onto face, neck and chest, put a little extra on areas that tend to be dry. After SAL antioxidant.